I need to come clean.  I kiiinda bought another living room rug.  Ok, not kinda.  I really did.  I think I might have a problem [See previous post here on our musical rug situation].  But this one is totally justifiable… hear me out, okay?
I was practically forced to buy a new rug, for two reasons…  
First – My husband said the current rug made him dizzy.  No joke.  And this has been backed up by numerous house guests (Did he pay them off? Possibly.) But I kind of saw his point as the herringbone pattern looks like it's moving when you're up close.
Second – I spend a LOT of time sitting on the floor with Charlie now, and so the very thin kilin style rug we had just wasn't cutting it.  In other words, my ass hurt.
I ultimately decided on a beige shag style rug because it is super cozy and cushiony, doesn't shed, and the price could not be beat!  We're talking $230 for an 8 x 10.  This particular rug got amazing reviews, so click, ship, unroll – it's now mine!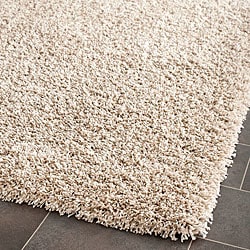 Source: Overstock
And I can't even believe how much different the entire room feels with this new rug.  The room is SO much more cozy and inviting, and so this is by far one of my best purchases yet.
Here is picture of the room with old rug…  Careful, don't get dizzy.
And now the new one!
Don't you just want to come over and sip hot chocolate with bailey's with me here?
And not to worry, we found a spot for the blue rug.  It's currently making Tony dizzy in our office. 🙂